She Has Her Eyes on Her Future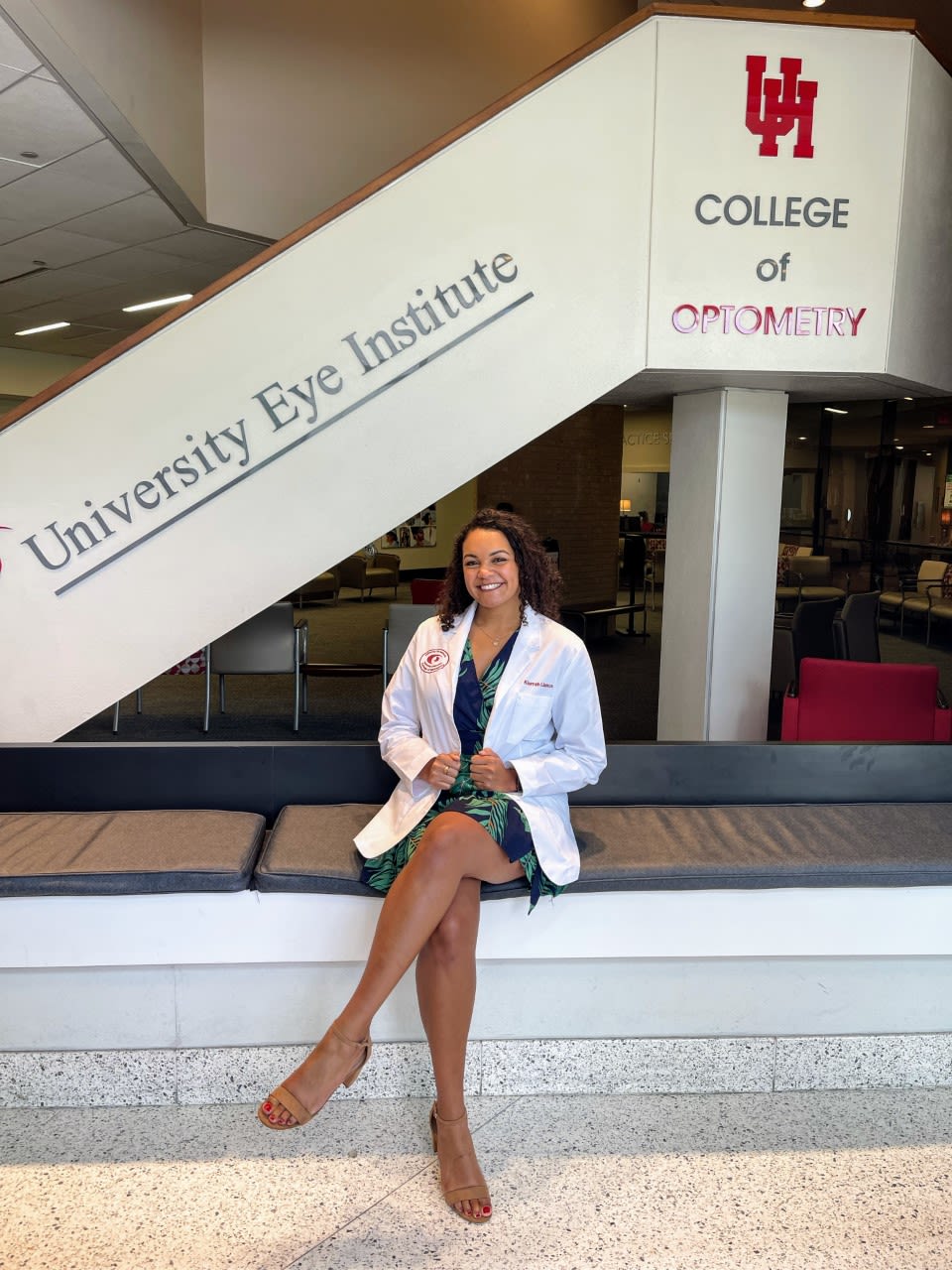 What's an Iowa girl doing at University of Houston?
Kierrah Llanos is making her vision of becoming an eye doctor come true at UH College of Optometry. "Several of my previous employers have graduated from UHCO," Llanos said. "This school has an outstanding reputation."
The UH College of Optometry program consistently ranks in the nation's top 10. Once she looked a little further, though, Llanos was even more impressed. It was the admissions staff that put her at ease right away. "Lyle Tate [who was] in admissions [at the time] was so friendly! Then I spoke with faculty members and felt like I was with family. I got to feel southern hospitality right way and knew I wanted to be at UH."
Llanos started on her journey when she was young. She had eye trouble at an early age, so has been seeing an optometrist for years and years. She became friends with her doctor, who showed her around the office and offered her a parttime job as an optical assistant greeting customers. From there, she worked her way up to technician, helping people pick out glasses and get set up for their examinations. She loved establishing relationships with patients that grew over the years.
Coupled with a general interest in health care, the decision to pursue optometry at UH wasn't a hard one for Llanos. She interviewed virtually, since her freshman year was right in the midst of COVID-19.
As a second-year student, Llanos is already getting a feel for how optometrists work at University Eye Institute on the UH main campus. "I feel like we're able to jump into things sooner than many other schools," said Llanos. "As a second-year student, I'm already seeing patients--with oversight, of course-- and will have several years of real-life experience when I graduate." The University Eye Institute offers discounted rates for those who are willing to help students polish their skills.
Llanos was quick to clear up the common confusion between optometrists and ophthalmologists. Ophthalmologists are specialists who perform surgery surgery, she said, and optometrists are like the family doctor of eye care. They're the ones you see every year for checkups and new glasses.
Traveling from small-town Iowa to big-city Houston has been an adjustment, yet Llanos has enjoyed the transition. When she graduates in 2025, she plans to return to Sioux City, establish her practice and be an ambassador for the education she received at UHCO.