It Had to Work Out Because There Was No Other Plan:
Deborah Billy Gillis-Harry (J.D. Candidate '25) shares her journey to achieving her dream of becoming a lawyer
Deborah Billy Gillis-Harry (J.D. Candidate '25) always knew she was going to be a lawyer, and now she is making her dreams come true at University of Houston's Law School, but that doesn't mean her path to law school was straightforward and easy.
"As a first-generation law student and a Black woman, I've found it exhausting even getting here because there are so many steps you have to take," Gillis-Harry explains. "You're already tired when you start law school, and everyone around you doesn't understand why you're tired."
Her journey started long before she came to UH. Back in 2011, she chose to major in criminal justice as an undergraduate and felt inspired to take the LSAT. She describes her results as "tragic" and wondered if this was a sign she shouldn't pursue law as a career. The lawyers whose guidance she sought out encouraged her to do some soul-searching before she entered law school. Taking their advice, she worked as a paralegal after graduation and did legal compliance work. These professional experiences confirmed that law school was what she wanted.
Now she sees law school as the right decision. She credits her education as changing her life and helping her find her purpose, but also extremely challenging and stressful.
"I paid out of pocket, so it felt like a big burden and fear came along with it. In a way, that helped me push myself as much as possible because I had real stakes in my education. It had to work out because there was no other plan," Gillis-Harry shares.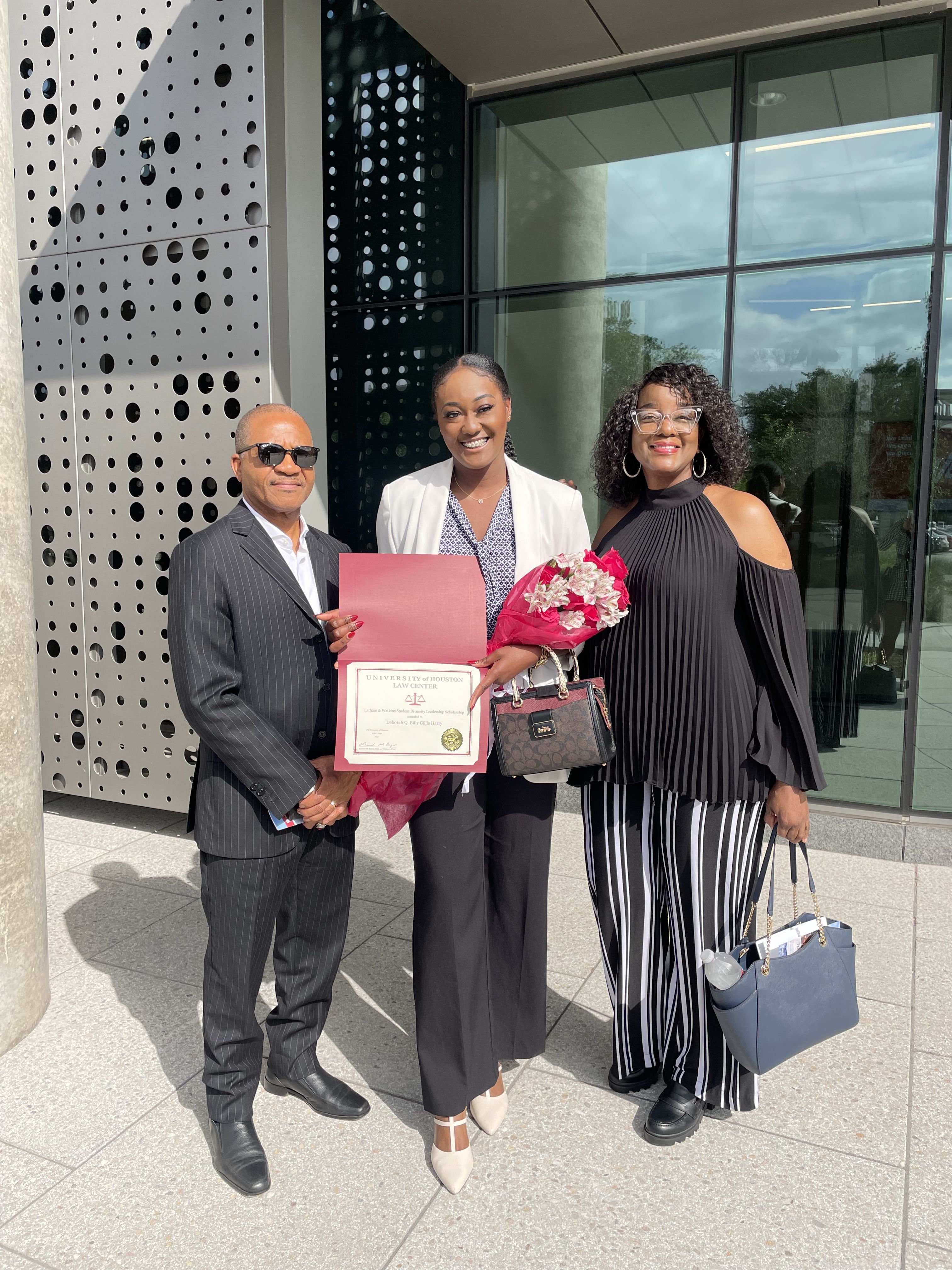 In her first year, she participated in the Blakely-Butler Moot Court Competition. She explains her thinking behind the decision, "I did it honestly because I was just so afraid. Imposter syndrome was really intense for me. I thought, 'You know what, I'm just gonna do this and see what happens.'"
She won the competition, and she describes the experience as transformative for her confidence. "It showed me that I could do the things that I'm most afraid of and that opened up doors for me, including applying for scholarships and finding more opportunities for myself." She applied to every scholarship she qualified for. While she waited to hear back, her stressors almost reached a fever pitch in the spring of her first year.
"I was stressed because I was commuting from Pearland while living in my parent's house to save money. I was burnt out from the drive, stress and exhaustion. I was in the library reading a statutory interpretation and the words were glazing over because I was just thinking, 'I can't keep doing this. I need to move closer to campus. Can I even afford that?'"
That was when she received the message she had been awarded the Student Leadership Diversity Scholarship in addition to the Federal Bar Association.
"I cried so much that I had to leave the library for a few hours. I was overwhelmed with emotion. The scholarship played a huge role in reminding me that I was in the right place doing the right things."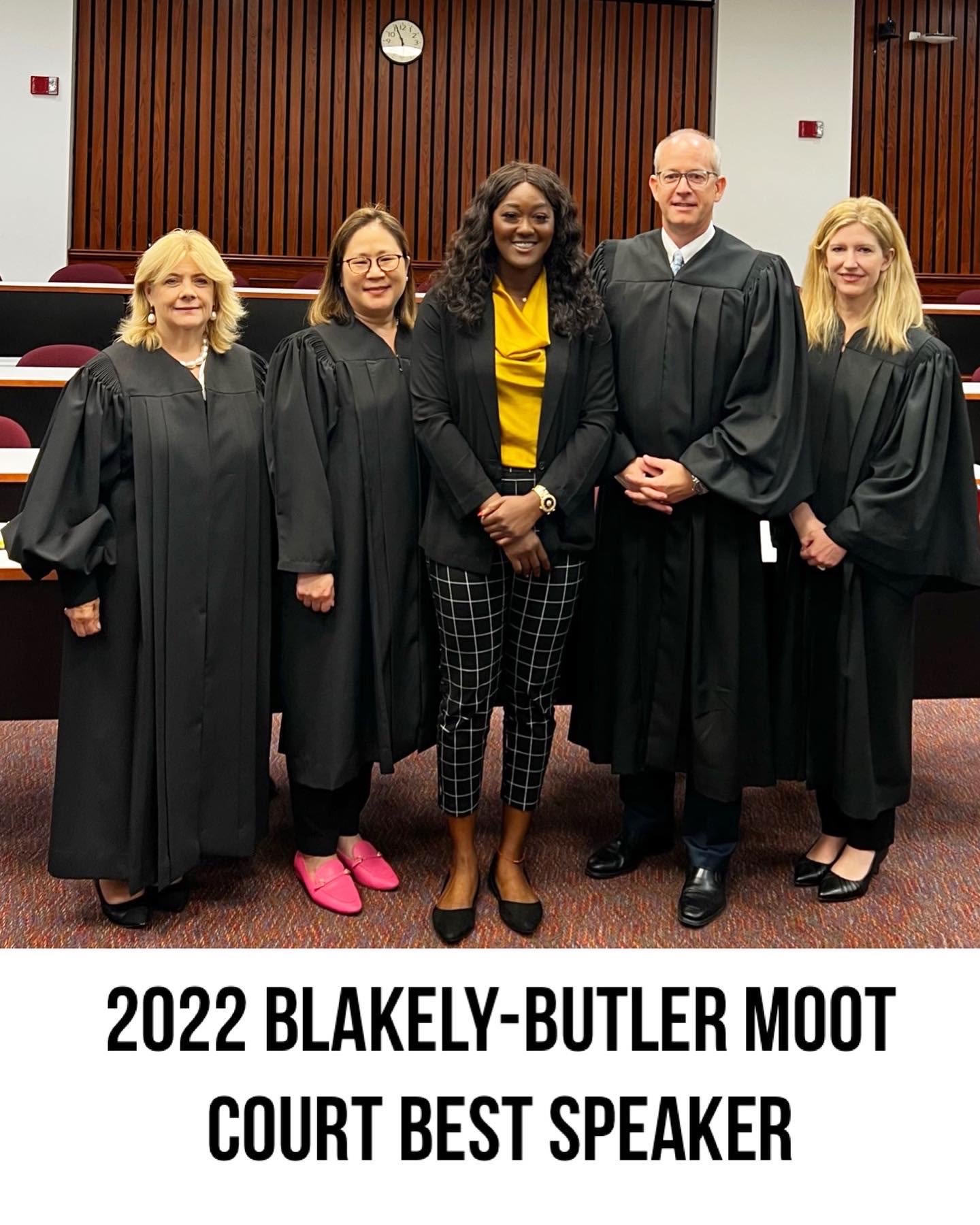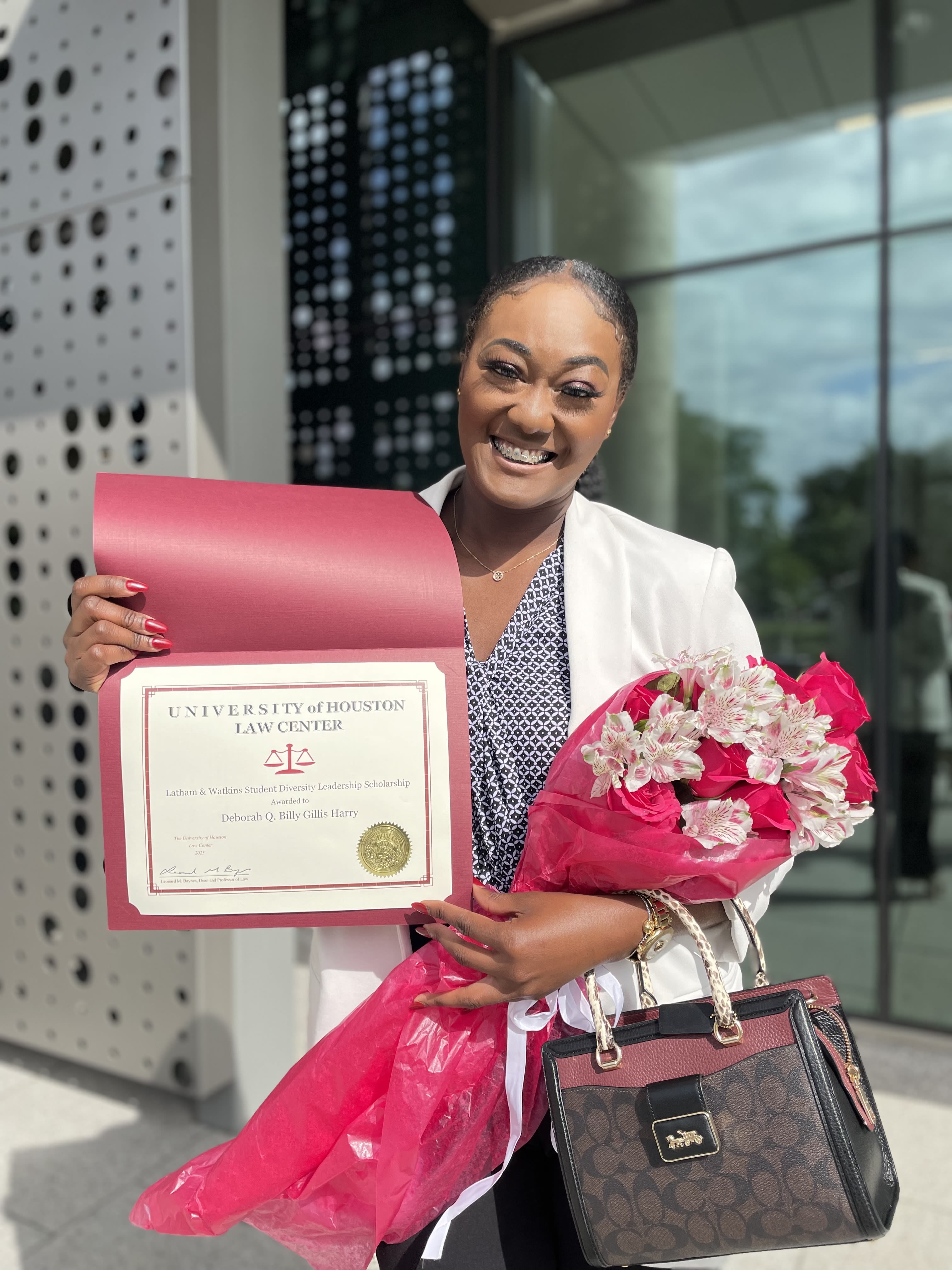 The scholarship paid for an entire semester. It also encouraged Gillis-Harry to apply for more scholarships and for a job. She worked at Gibson Dunn between her first and second year of law school. "The people I met at Gibson Dunn impacted my life in ways beyond just having a job; they helped me invest in my skills as a future attorney by sharing their experiences with me and giving me tips that I didn't even know I needed."
As she takes on her second year of law school, she reminds herself of her scholarships and what they represent whenever she feels discouraged or overwhelmed. "I still have all my awards framed in front of me. I tell myself, 'Oh my gosh, someone thought enough of me. Someone thought about a student in my very position who's struggling, who does not have support, who's trying to be excellent, who's trying to find a better life for themselves and change the world in a little way by becoming an attorney and helping future clients through their legal needs.'"
She researched the donors behind her scholarship to write them a thank you letter and learned they were partners at firms with an impressive history in the legal industry. "That made the scholarship feel more tangible. I can actually one day become the same type of lawyer because someone in that position believed in me."
As she looks towards her future, she hopes to emulate these donors and lawyers. "Maybe one day I'll become a partner because a partner believed in me in my first year of law school and decided to invest in my education. This thought inspires me to give back when I get to the position where I'm able to."