General Motors Supports UH's Third Ward Initiative to Advance Community's Economic Development and Education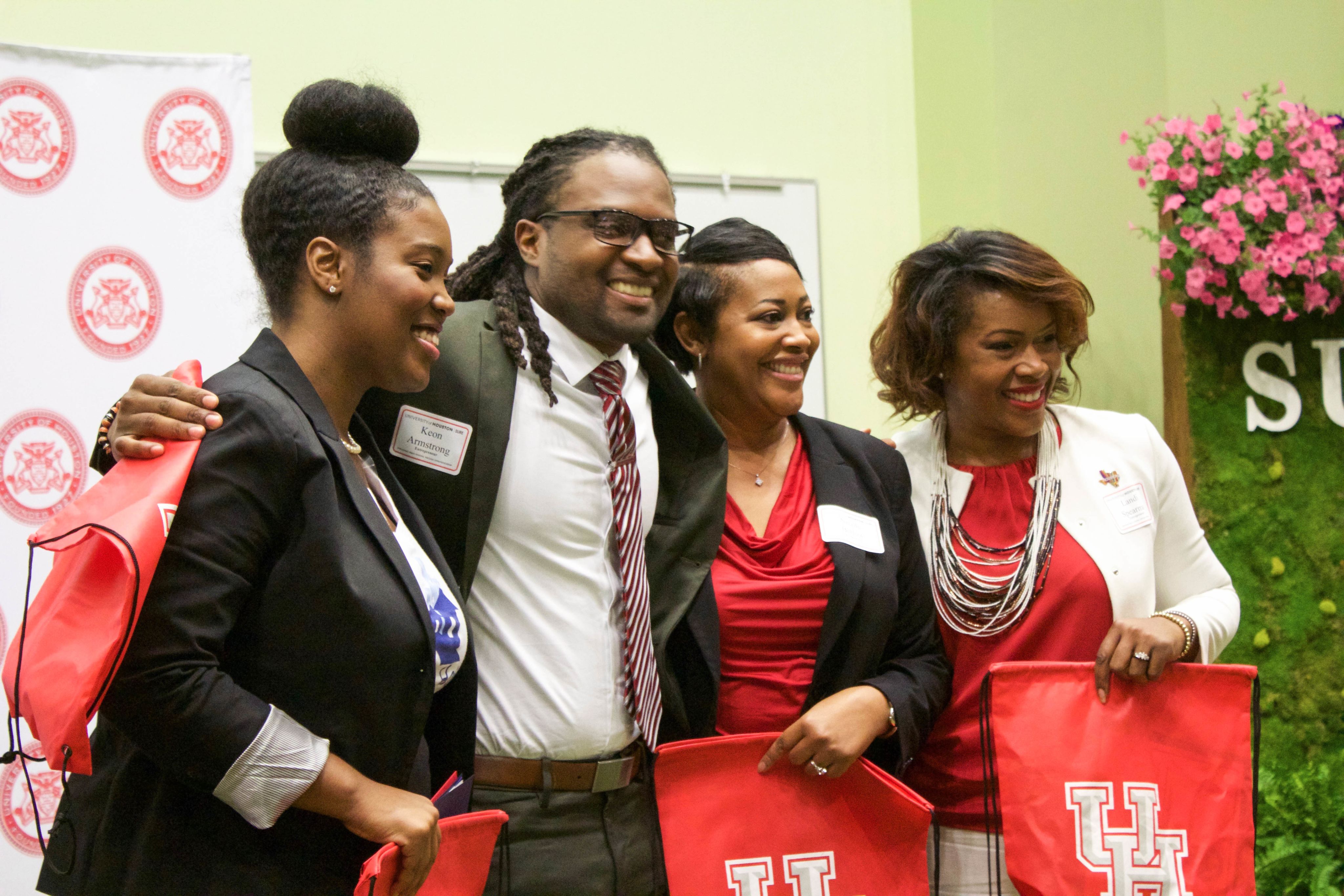 General Motors recently provided a $150,000 grant to the University of Houston's Third Ward Initiative, helping improve the quality of life for Third Ward residents through enhanced educational programs and economic development assistance.
Third Ward is an underserved, predominantly Black community with a rich civil rights history and cultural legacy. A neighborhood of which UH is a member, Third Ward has inequities and barriers to implementing quality science, technology, engineering and math (STEM) education. For example, local Jack Yates High School has a graduation rate of 78% compared to the overall Houston Independent School District-wide graduation rate of 84% and national average of 89%.
UH President Renu Khator thanked GM for supporting the Third Ward Initiative. "GM's wonderful generosity inspires us as we strive to grow and prosper with Third Ward," Khator said. "We appreciate the opportunity to invest in the success of those who live, learn and work in our community."
"General Motors is proud to work with the University of Houston to help build a strong, diverse STEM teacher pipeline, support students and empower entrepreneurs in Houston's Third Ward," said Terry Rhadigan, vice president of Corporate Giving at GM. "This work is important to GM, the region and our collective future."
GM's funding supports a UH initiative that features two programs to advance STEM education: teachHouston and Cougar Tutors. A third program, Stimulating Urban Renewal through Entrepreneurship (SURE) facilitates partnerships between University business students and aspiring entrepreneurs from under-resourced communities like Third Ward.
The STEM educational programs address the shortage of qualified STEM teachers and increase tutorial opportunities for at-risk Third Ward youth. The teachHouston program tackles the shortage of qualified math and science teachers and seeks to expand the group's diversity. It consists of UH undergraduate math and science majors interested in STEM teaching. Annually, the program graduates 40 to 60 new STEM teachers, with 95% continuing to teach in the Greater Houston Area and 80% teaching in high-need schools.
The GM grant will help enable teachHouston to:
· Certify more than 60 new STEM teachers for fiscal year 2023-24. Each new STEM teacher will be able to reach approximately 180 students while in the teachHOUSTON program and 150 students yearly thereafter.
· Expand the New Teacher Academy, a teachHOUSTON initiative in partnership with the National Math & Science Initiative. The academy provides new teachers with resources and support throughout their first year to help with retention among STEM subjects.
· Expand the STEM talent pipeline in Third Ward and diminish the opportunity gap that disproportionately affects minority students by introducing them to hands-on STEM programming.
The second STEM educational program, Cougar Tutors, involves UH students who strive to remove the discouragement many elementary school students, particularly emergent bilingual and underserved learners, face in math, science and literacy. Emergent bilingual students are those who are non-English speakers and are learning English in school. The additional instruction helps improve students' academic skills so they will be prepared for advanced courses in middle and high school.
GM's contribution supports Cougar Tutors' response to the rapidly changing demographics of six elementary schools, highlighting the need to serve children who speak another language other than English as 34% of the students within the partner schools are considered emergent bilingual. This will result in 2,400 students benefiting, and 40 UH student tutors providing 16,800 hours of 1-on-1 tutoring. In addition, 70% of elementary school students are expected to increase their literacy skills by at least two reading levels and be on grade level at the end of the 28-week program.
The GM grant also supports the SURE Program, which launched in 2012 and is grounded on nurturing small business growth. UH Bauer College of Business students serve as program consultants and help community entrepreneurs create business plans to successfully launch their businesses and pursue their dreams.
By promoting entrepreneurship and improving access to capital, the SURE Program strives to address the root causes of poverty. To date, SURE includes 250 community entrepreneurs and 80 UH students annually, has helped nearly 1,800 individuals become entrepreneurs and launched or expanded close to 700 businesses.
Recognizing UH as an exemplary Hispanic-serving institution, GM provided an initial $150,000 grant in 2022 to support teachHouston, as well as other UH initiatives working to increase equity in education. This latest grant is a testament to the success of the programs and necessity to diversify the teacher pipeline and better reach underrepresented students.