A Love that Endures: UH Couple First Met on the Football Field 35 Years Ago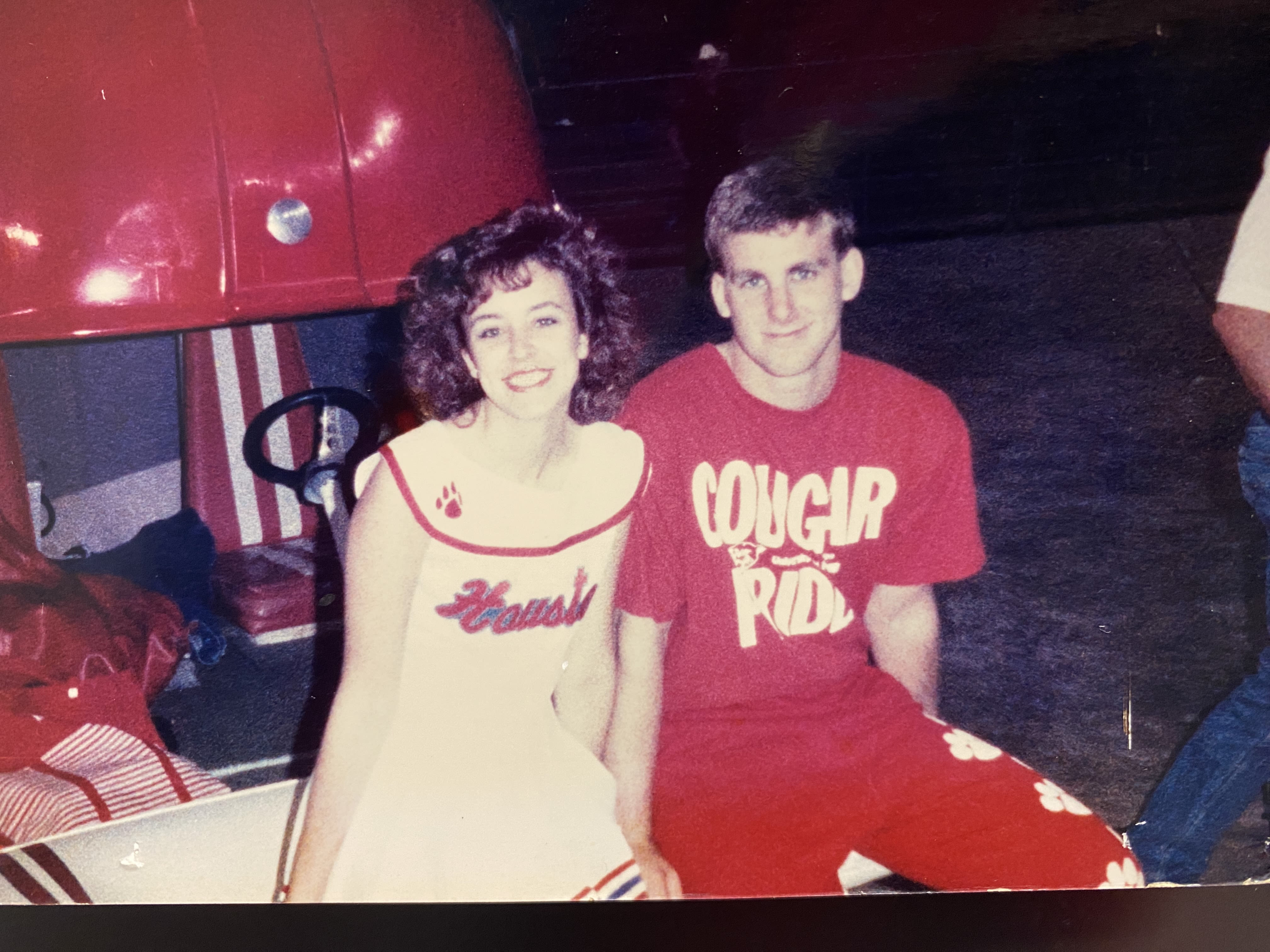 Many first dates take place at a coffee shop, restaurant or movie theater. Mike Pede met his date on a football field.
It was 1988, and University of Houston fans were led in cheering on the football team by Mike, whose alter ego was the costumed mascot, Shasta. Also on the field was Melanie Stinson, a member of the Buggy Beauties, a UH spirit organization composed of young women who serve as student ambassadors and ride on a golf cart retrofitted to resemble a giant Houston football helmet.
The two would meet with the help of Melanie's parents, Murray and Sharon Stinson, who Mike described as "huge fans of the athletic programs." The UH alumni met Mike when he was interning with the Athletics Department's Cougar Club, the department's fundraising arm now known as Cougar Pride. After getting to know them well, Mike said the Stinsons surprised him with a request.
"They said, 'You need to meet our daughter,' so I did." Melanie and Mike's first date was on the road with the UH football team playing against Baylor University in Waco.
"There's a picture in our house of us painting 'Go Coogs' in white shoe polish on the side of the bus as a Cougar Club trip," Mike said. "We sat next to each other on the bus and shared headphones on my Sony Walkman."
The two enjoyed getting to know each other. "First of all, she's strikingly beautiful," Mike said after his first meeting with Melanie. "She just has a great personality, and she loves sports like I do."
A hotel and restaurant management major, Mike invited Melanie on dates to their favorite spots on the UH campus. These included Itza Pizza on the ground floor beneath Moody Towers and the Black-eyed Pea restaurant on Martin Luther King Boulevard, both now defunct.
Mike, who graduated in 1989, was helping manage the John Jenkins Golf Tournament, held the summer of 1990 at The Woodlands Country Club. The golf tournament was named after UH's head football coach at the time as a team fundraising event. Alerting Coach Jenkins to his plans, Mike proposed to Melanie before 500 people at the tournament. The two were married in a Houston church in 1991, the same year Melanie graduated with a management information systems degree from UH's Melcher School of Business, now the C.T. Bauer College of Business.
Their wedding and reception were a Who's Who among UH dignitaries, including then-University President Marguerite Ross Barnett, as well as football coaches and players. Also invited were Mike's Sigma Alpha Epsilon fraternity brothers and Melanie's Delta Zeta sorority sisters.
Mike worked for UH Athletics in the early 1990s before joining Rice University. After 13 years there, he was briefly employed in the private sector and Live Nation before returning to his alma mater in 2010 to become associate vice president for Alumni Relations, a position he still holds.
Melanie remained in the workforce until 1994 when their first daughter, Kelsey, was born. She stayed at home to raise Kelsey and their second daughter, Krista, who arrived five years later. Since 2006, Melanie has owned a Missouri City dance studio.
Both daughters followed in their parents' UH footsteps, with Kelsey graduating in 2017 with a psychology degree and Krista earning her undergraduate degree from the Conrad N. Hilton College of Global Hospitality Leadership in 2021. "We're about an all-in Cougar family as you could have," Mike said.
He still recalls those dates with Melanie after the pair first met on the football field.
"Our personalities just matched," Mike said. "She laughed at my stupid jokes. She's just one of the most loving and caring people that I know, and it comes off in the first 10 minutes that you meet her. If you're around her, you'll know that she wants to talk about you. She doesn't want to talk about herself. I think that it's a wonderful trait.
"There aren't many people out there like that, so I latched on and held on to her for dear life."